BY CHALETTA HUERTAS
As experienced grantmakers, we know that nonprofit leaders operate effective programs by continuing to adjust and adapt to changing times while staying true to their mission. By understanding where the pressure to change comes from, funders can help nonprofits stay nimble, focused and operationally strong.
Seven leaders of Boston-area nonprofits joined us at GMA Foundations for lunch last month to talk about how to manage programs that stay rooted in an organization's mission. Our guests shared stories of well-informed strategy and unforeseen hurdles. They all spoke of the frequent need to fine-tune their operations in response to a variety of pressures. To stay true to their mission, these leaders meet these forces with light-footed, self-assured, responsive management – management that looks more like a dance than a walk.
Forces affecting program operations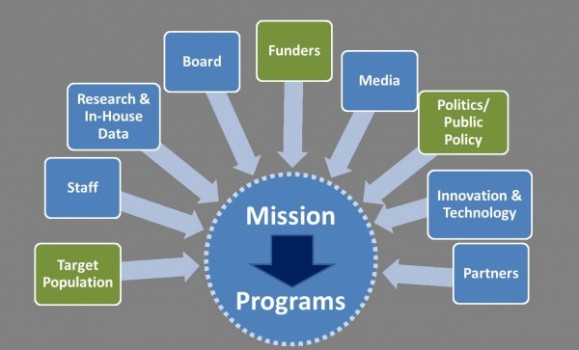 An organization's mission tends to stay constant, but over time at least nine forces drive the need for program modifications.
Universally, these nonprofit leaders spoke of the changing needs of their own target populations and of the policy decisions of elected leaders as forces affecting the shape of their programs.  They also spoke of funders as mostly positive influences on program adjustments.  The anecdotes, both good and bad, demonstrated how open, honest communication can give funders a vital role in maximizing a program's impact.
By identifying and understanding the pressures on their grantees' programming, funders are better positioned to support effective operations.
Under Pressure:  Nonprofit leaders speak of the need to change
These three examples (shown in green above) of nonprofit leaders responding to the forces around them may shed light on other situations you may have faced (or will face) as a funder.