by Chaletta Huertas
This post appeared originally in the National Center for Family Philanthropy's column, Voices from the Field.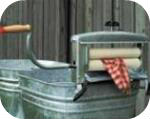 Historically, only a small percentage of philanthropic dollars goes to communities of color, goes to organizations led by people of color, or comes from people of color.  For many people, the word 'philanthropist' itself conjures up images of elderly white gentlemen in business suits.
Has this changed much in today's society which some would call 'post-racial'?
No.  The Greenlining Institute reports that communities of color receive less than 5 percent of all charitable donations from the more than 72,000 foundations in the country (A Promise to Diverse Communities: Summary of the Foundation Coalition's Efforts, Avis Atkins and Orson Aguilar, June 2012).
In reality only "10 percent of all charitable deductions are directed at the poor," according to Robert Reich, former U.S. Secretary of Labor and Professor of Public Policy at the University of California at Berkeley.
Mmm…so…why?