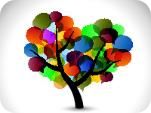 Foundations that move beyond traditional grantmaking to joining funding collaboratives or to awarding grants to coalitions are willingly entering a realm that can be less predictable, possibly risky, yet powerful.  Across the country funders are increasingly supporting networks, coalitions, and partnerships – fostering learning, cooperation and strength.
One New England funder's network- and coalition-centric grantmaking is paying off in many ways.  It is  increasing land conservation as measured by dollars and acres, while also helping build a network of conservation organizations that are smarter and more ambitious than ever.
Regional Conservation Partnerships
The most recent initiative of the Jessie B. Cox Trust supports coalitions of conservation organizations in New England – where challenges of increasing density persist and the cost of land has sky-rocketed.  These coalitions, called Regional Conservation Partnerships (RCP), share the goal of increasing the scale and pace of land conservation. Read about the Network of RCPs and the Wildlands and Woodlands vision to conserve 70 percent of New England permanently free from development.
Just as the forests and habitat that the Cox Trust seeks to help protect operate at a regional level, so must its nonprofit organizations and partners.  Networks and coalitions can address challenges of scale, connectivity, strategy development and fundraising in ways that a single nonprofit organization could not.
Risk and opportunity