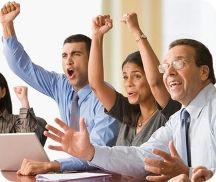 NPO Conversation at GMA on Thursday, December 4
We invite leaders of nonprofit organizations to join us each quarter for a brown-bag lunch discussion about issues, ideas, and concerns in the nonprofit and philanthropic community. The meetings are a time for us to "talk shop" and move beyond the usual conversation between foundations and nonprofit organizations.
Each session focuses on a particular topic, and reservations are required. Guests will learn a little about GMA and a lot about their peers' perspectives on important issues.
This Quarter's Topic: Great Boards (off the record)
As staff for nonprofits and for foundations, we work with boards of directors and rely on effective relationships for practical and aspirational reasons. From your perspective, what makes for a great board and a productive staff/board relationship?