ADDRESS CHANGE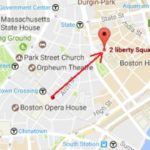 We are pleased to let you know that GMA will be in new offices as of May 1, 2017
Our staff is looking forward to working together on a single floor in a recently renovated building, and to continuing to host meetings in our ample conference rooms. Our phone numbers, email addresses, and commitment to effective and joyful philanthropy remain the same.
Please note our new mailing address:
GMA Foundations
2 Liberty Square, Suite 500
Boston MA  02109
2 Liberty Square is at the corner of Milk and Kilby Streets, steps from Post Office Square Park. The closest T stop is State Street – on the blue and orange lines. Government Center, Park Street, and South Station are all within a 5 to 10 minute walk.