RESEARCH IN ACTION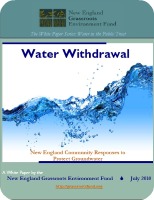 Water quality and quantity has always been a central concern of the environmental movement.
A recent surge in grassroots activism points to a new set of water worries – bottled water extraction and the privatization of public water supplies.
Bottled Water Battles
The board and staff of the Cox Trust noticed a trend of bottled water battles in many New England towns. As a regional foundation with an interest in protecting water, the Trust asked its colleagues at the New England Grassroots Environmental Fund to document the problem.
The study's goal was to explore why local citizen groups form to challenge water bottling companies and what obstacles stand in the way of local control over water resources.
The study gathered information from nearly two dozen organizations working on water withdrawal and privatization issues. It also documented 97 New England cities and towns that have privately owned water extraction or water privatization activities within their borders.
"In almost every case, citizen groups take action because they think that local government is not acting in the public interest regarding water," says study author Claire Wheeler.
Who Owns Our Groundwater?
The report highlighted several themes:
The costs and benefits are a source of friction. New England communities faced with the prospect of water withdrawal and privatization are concerned about connections between privatization and rising water rates, lowered water tables, increased truck traffic and plastic waste. On the other hand, New Englanders have also long favored local water bottling companies as a source of revenue and jobs.
Groundwater laws are fuzzy. While ownership of surface water is well defined, the governing of groundwater is not. Bottled water, a product that private business makes from a shared resource, is becoming the focus of the debate about the clarity of laws used to manage shared resources.
Democracy matters. Residents charge that local officials often put local economic growth ahead of current residents and the natural environment. All too often, plans to build a new plant or tap a new spring are in the works before the community is informed of the pending development. Citizen groups form because they believe the interests of the private company are put before the public's interests.
Communities are sharing strategies. The region's network of community activists is expanding along with the tactics to challenge groundwater extraction. The report highlights a wide range of tactics such as developing extraction moratoriums, appealing local decisions, rewriting land use regulations and town plans, enacting regulatory ordinances, supporting statewide legislation and conducting consumer boycotts.
The public's voice is vital but needs to be better coordinated. Both grassroots community groups and the larger state, regional, national and international advocacy groups have roles to play in this public dialogue, but they need to be better coordinated and more strategic.
Water Withdrawal: New England Community Responses to Protect Community Groundwater
Author: Claire Wheeler, Program Officer, NEGEF
Contact: Claire Wheeler – claire@grassrootsfund.org
Featuring the New England Grassroots Environment Fund, a grantee of the Jessie B. Cox Trust.