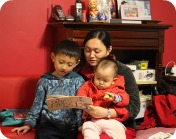 EVENTS OF NOTE
If we want to really make strides in bridging the achievement gap, we must start thinking outside the walls of school buildings and work with those who have the most at stake in the future of their children: their parents. — Sarah Walzer
The Parent-Child Home Program hosted a funder briefing at GMA Foundations that highlighted the impact of early intervention programs for children.
The program is an intensive, evidence-based early childhood literacy, parenting, and school readiness initiative serving 8000 low-income families in 16 states.
Sarah Walzer, Chief Executive Officer of the Parent-Child Home Program led a panel discussion with Massachusetts early childhood education experts familiar with the program.
Presenters included, Matt LiPuma of the Family Nurturing Center in Boston, Roy Belson, Superintendent of the Medford Public Schools, and Ferenanda Villar and Saima Khan of the Somerville Parent-Child Home Program.
Closing the preparation gap
Roy Belson helped frame the discussion with a sharp critique of how society invests too much on the "back end" of education systems in an effort to fix problems that could have easily been prevented early on.
Referencing a point made by Sarah Walzer in a Huffington Post article, Benson said, "We can't close the achievement gap without dealing with the preparation gap."
The long-term impact on parents
Former Massachusetts State Senator Dave Magnani pointed out that the unintended benefits of intensive home visiting interventions on parents are often as powerful as the increase in literacy skills among the children.
"Low income and immigrant parents catch the education and literacy bug by participating in these programs. They go on to be advocates for their own educations and become more active citizens in the community," said Mr. Magnani.
Similarly, Saima Khan shared how she has seen the program help empower immigrant families that were formerly isolated and disconnected from community services.
"After they are in the program you see the kids and parents everywhere in the community – at the library, in other programs, and getting their own education," said Ms. Khan.
Early childhood education is still a hard sell
Despite overwhelming evidence of impact in improving educational outcomes and saving money, marshaling the political will to increase government funding for home visiting programs remains a challenge.
Massachusetts Parent-Child Home Program Advisory Board Member, Brendan Walsh put it bluntly, "It's a hard sell to school administrators that don't have any incentives to shift or share funding with programs that serve children before they enroll in school. And since it happens at home, it is invisible to the public."
GMA Foundations clients, the A.C. Ratshesky Foundation, the Linden Foundation, the Mabel Louise Riley Foundation and several other foundations co-sponsored the briefing.
Leave a Reply