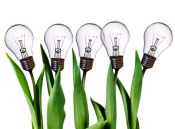 NPO CONVERSATIONS SERIES
The Creative Sector
"The movement towards outcomes-driven philanthropy has done a lot to diminish creativity," concluded one CEO at a recent GMA Foundations' NPO Conversation on creativity.
At this regular lunchtime forum, leaders of seven Boston-area nonprofits were asked to open up about their organization's most creative moments, their innovation wish list for 2012, and obstacles to organizational creativity.
Judging by the Conversation, creativity and innovation are still essential to the daily existence of these organizations.
The question, though, remains.  Is outcomes-driven philanthropy affecting creativity?
The nonprofit sector frequently serves as the creative sector for a better world.  Nonprofit organizations are ideally positioned to study problems, frame creative solutions and develop models for scaling.  Indeed, creative uses of technology have transformed the way most of these nonprofits connect with new audiences, expand their networks and reach new donors.
The Roxbury International Film Festival partnered with Los Angeles-based Pan African Film Festival to do a simultaneous screening on both coasts with director, producer and actor Mario Van Peebles speaking to the Boston audience via skype.
The Discovery Museum is expanding its programming for young children outside of its building in Acton and into a network of family day care centers in Lowell and into the homes of children on the autism spectrum across the region.
Jumpstart and JFYNetWorks have used technology to train exponentially larger numbers of teachers in techniques for reaching early childhood and at-risk adolescent learners.
Technology remains high on all the leaders' wish lists as they seek creative, scalable models for change.
At a time when creativity and innovation are seen as essential to solving some of our most difficult social issues and to competing globally, the quality of this country's education is increasingly measured by standardized test scores.  Similarly, philanthropy is measured more and more by outcomes data.
Data certainly can drive great decisions.  However, relying solely on data might rule out untested innovation.  For obvious reasons, donors don't want to fund failure, yet great achievements in science, technology and the arts would not have been possible without experiencing failure first.   Solutions often lie in extensive trial and error and in daring action.
Are creativity and innovation present in your plans for 2012?
Leave a Reply