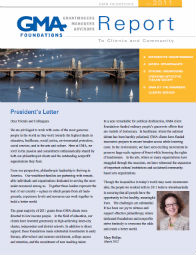 NEW AND NOTEWORTHY
"From our perspective, philanthropic leadership is thriving in America."
Mary Phillips, President of GMA Foundations invites your reflection on 2011- a year remarkable for both protests of income disparity and innovation in philanthropy.
GMA Foundations Annual Report highlights grantmaking activities, consulting assignments, special initiatives and our financial and administrative services for foundations.
The report also lists clients served in 2011 and the total grants made by the foundations that we actively manage.
Leave a Reply