SUCCESS STORIES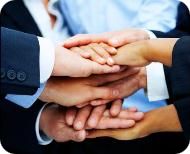 Collaboration between funders is a tricky business. Working together goes beyond passively making grants to the same organizations or programs. Foundations and their trustees must be able to find common threads in their missions, and sometimes to suspend the procedures of business as usual to make the joint efforts successful. The effort's reward is in greater effectiveness and scale, not always in lower costs.
Successful funder collaboration requires time and staffing to realize its potential. But the rewards may be significant; this has been GMA Foundations' clients' experience with the Boston Schoolyards Initiative, the New England Grassroots Environmental Fund, the Civic Engagement Initiative, and the Drawing Democracy Project, among others.
Both the Theodore Edson Parker Foundation and the Jessie B. Cox Charitable Trust have chosen to serve as local funding partners, matching and leveraging grants from large national foundations to promising nonprofits. There is immense power in leveraged funding, but foundations should be flexible – ready, for example, to consolidate reporting requirements so that grantees can concentrate on the work at hand.
The Anna B. Stearns Charitable Foundation has forged a partnership with a group of local donors as track sponsors for the Social Innovation Forum, a venture development effort that works intensively with a handful of promising nonprofits each year.
The Stearns Foundation trustees were eager to sponsor a social issue track supporting women and girls, but reluctant to underwrite the full cost of the track. By sharing the track with five individual donors (newly named the Vesta Vanguards) they will have a chance to work directly with other funders. Read more about the collaboration at http://rootcause.org/blog/walking-the-talk-powerful-partnerships-for-women-and-girls.
The process promises to be challenging and educational. Already, the decentralized process of jointly approving the narrative description has been time-consuming and required compromise. As the year-long process progresses, culminating in the selection and showcasing of a grantee, the Stearns Foundation trustees may experience the rewards of this initial investment.
Compromise may help the trustees identify the most important aspects of their guidelines and self-description. They will come to understand the differences between a foundation and individual donors, and learn a great deal from their fellow funders as well. And they will have doubled their impact.
More frequent and less formal collaborations with other funders provide a good opportunity for trustees and staff to expand their reach and their knowledge, and to leverage their philanthropy. Well chosen, they are worth the investment.
—
Amy Segal Shorey is a senior consultant and grantmaker at GMA Foundations and can be reached at ashorey@gmafoundations.com or tel. 617-426-7080.
Leave a Reply