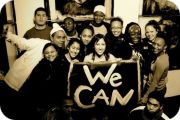 Several themes run through the portfolio of the Dolphin Trust grants to Boston area organizations. Most of the organizations supported by the Trust deal with middle and elementary-aged youth, incorporate experiential education, and outdoor learning. Several focus on science, technology, engineering and math (STEM) education.
The Western Reserve Land Conservancy in Ohio is well known as a leader among land conservation organizations in the U.S. We have been impressed by its leadership in reinventing the concept of community land trusts as a tool for addressing the foreclosure crisis and also reviving urban areas.
The One Health Organization is another pioneering organization funded by the Trust. Few organizations in the US or the World are looking holistically at the link between animal and human health. A key part of the One Health approach includes joint cross-species disease surveillance and prevention efforts.
Finally, the Association to Protect Cape Cod continues to take the lead on controversial environmental issues such as zoning reform, smart growth, and the storm water/wastewater crisis facing Cape Cod communities.
The Dolphin Trust relies on staff and trustees to identify promising organizations. It is currently not prospecting for new organizations nor does does it accept unsolicited proposals.
2012 Grants to the Boston Area
Girls Inc.
Lynn, MA
$15,000 for an interactive math, science, and technology summer program for middle school girls.
Math Power
Boston, MA
$25,000 to train teachers how to improve the math skills of struggling elementary and middle school students.
Raw Art Works, Inc.
Lynn, MA
$25,000 to support arts-based youth development programs for children aged six to 14.
Save the Harbor Save the Bay
Boston, MA
$20,000 for environmental education programs for youth and their families that expose them to the Boston Harbor and its marine ecology and history.
Science Club for Girls
Boston, MA
$25,000 for summer and after-school clubs that expose girls to science, technology, engineering and mathematics (STEM) careers.
Sportsmen's Tennis Club
Boston, MA
$25,000 to provide both tennis instruction and academic enrichment activities for youth in the neighborhoods of Dorchester and Mattapan.
Strong Women, Strong Girls
Boston, MA
$25,000 for a mentoring program for elementary school girls focused on learning about contemporary and historical women leaders.
Third Sector New England f/b/o Boston Family Boatbuilding
$15,000 to expand an in-school boat building program for elementary school students that incorporates swimming lessons, the study of the Boston Harbor, and an oral history project focused on African Americans in the maritime industry.
Urban Ecology Institute
$25,000 to expand a science program that provides middle school teachers with curriculum, equipment and training to conduct ecological field studies with students in nearby urban settings.
Other Grants
Association to Protect Cape Cod
Barnstable, MA
$100,000 General operating support to advocate for water resource protection, land preservation and smart growth on Cape Cod.
One Health Organization
Gates Mills, OH
$75,000 General operating support to prevent the spread of diseases between animals and people in different environments.
Western Reserve Land Conservancy
Moreland Hills, OH
$25,000 General operating support to preserve the scenic beauty, rural character, and natural resources of northern Ohio.
Leave a Reply