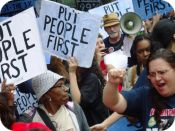 Labor rights and workplace fairness figured prominently in the the recent grant awards of the Sociological Initiatives Foundation.
The research and organizing projects supported by the foundation will investigate wage theft, working conditions for temporary and domestic workers, hiring discrimination, and the challenge of making fair labor practices a part of the growing sustainable food movement.
Most of the projects supported community-academic partnerships and were designed to support regulatory or legislative advocacy campaigns.
To view the grants list, click here.