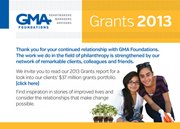 GMA Foundations' Grants 2013 report released
Forty independent and corporate foundations and individual donors working with Boston-based GMA Foundations increased their giving in 2013 to a combined total of $37.3 million, up nearly 20% from the previous year. The philanthropic advisory firm's newly released report describes the grantmaking reach of its clients, who awarded more than 1,500 grants to 1,100 nonprofits around the world.
Reflecting stronger investment returns, the amount of the average grant increased 9% over the prior year to $23,565. "We look to the nonprofit sector for innovation, agility, and strong connections to the community," says Phil Hall, GMA's Director of Grantmaking.  "Operating on a small scale, these nonprofit organizations are leading the way to social change, and we are proud to support them."
While each of GMA Foundation's clients retains full autonomy, as a whole their funding priorities mirrored national trends – dedicating twenty-eight percent of grants to education, twenty-three percent to human services, sixteen percent to health, twenty percent to civic activities, eight percent to the environment and five percent to the arts.
The vast majority of contributions were made to benefit low-income populations, with a particular emphasis on youth. Nearly eighty percent of these grants were issued through an open application process.
Over $2 million in grants were awarded through collaborative funding vehicles such as the AGM Summer Fund, Smart from the Start, Edvestors, English for New Bostonians, SkillWorks, One Fund Boston, and MassNeeds.org.
In awarding grants, funders recognize the nonprofit's shared vision for the future and capacity to create change. Each of these brief grant descriptions introduces a larger story of need and determination.
Health Leads received $1 million from the Physicians Foundation for a national expansion effort engaging college volunteers to connect low-income patients to physician-prescribed basic services, such as food, heat, and housing.
Massachusetts Housing and Shelter Alliance received $90,000 from the Clipper Ship Foundation for technology readying it to participate in pioneering social impact bond funding also known as 'pay for success.'
Project RIGHT received $375,000 from the Charles Hayden Foundation for a community-based violence prevention initiative in the Grove Hall neighborhood of Boston.
Read Grants 2013 for insight into other grants made by small and midsized foundations.
Established in 1982, GMA Foundations helps foundations and individual donors establish and achieve their philanthropic goals. The firm provides a full range of customized services, from strategic consulting and impact analysis to grantmaking, administration, bookkeeping and organizational support.
With total assets ranging from under $10 million to nearly $300 million, GMA Foundations' clients are typically thought of as small to midsized foundations. According to the National Center for Charitable Statistics, only one percent of the roughly 89,000 private foundations in the USA have over $100 million in total assets and ninety-three percent have assets totaling less than $10 million.
—-
CONTACT:
Judy Sneath,
Communications Officer
GMA Foundations
jsneath@gmafoundations.com
(o) 617-391-3084
(c) 781-635-2344
…