NPO Conversation on December 9 at GMA Foundations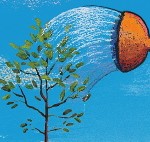 We invite leaders of nonprofit organizations to join us each quarter for a brown-bag lunch discussion about issues, ideas, and concerns in the nonprofit and philanthropic community. The meetings are a time for us to move beyond the usual conversation between foundations and nonprofit organizations.
Each session focuses on a particular topic, and reservations are required. Guests will learn a little more about GMA and a lot about their peers' perspectives on important issues.
Topic for Conversation: Succession and Sustainability
The pressures on leadership of nonprofit organizations are well known. Passionate about solving some of society's greatest challenges, these executives are frequently faced with a shortage of funds, time and compensation, even if they possess abundant talent. How then does an Executive Director who works to build a strong organization ensure its successful continuity?

There is hardly a way to avoid the topic in Boston these days. In Sacha Pfeiffer's May 18th article in the Globe, the headline warns, "Wave of retirements looms; many lack succession plans." Third Sector New England's recently released report, Leadership New England, chronicles the challenge and recommends significant shifts, including in the framework for succession planning. As longtime observers of the nonprofit sector, we at GMA find that succession from a founder can be the trickiest.
The ongoing collaboration between an ED and Board of Directors usually centers on a shared vision, on governance, and fundraising. At what point in the organization's development does the subject of succession come up, and in what context?
When assessing the strength of a nonprofit organization, funders often look for a succession plan. Do we focus too much on the "who" of succession, rather than broader questions of organizational resilience and sustainability? We are eager for a frank discussion of how we can be better analysts and partners.
Our informal conversation will be organized around a few questions, similar to these:
• What gives you and your board sleepless nights?
• Who should take the lead on key questions of governance and leadership?
• When is the right time to introduce the concept of leadership succession?
• What are the biggest barriers to a sound leadership succession?
The discussion is open to Executive Directors of Boston-area nonprofits with at least five salaried staff members.
Please bring your experiences, ideas and a brown bag lunch to GMA's 9th floor conference room, 77 Summer Street in Boston's Downtown Crossing, on Wednesday December 9 from 12n to 1:30pm. We'll provide beverages and dessert.
Registration is required as space is limited. Please contact Judy Sneath by email jsneath@gmafoundations.com or telephone 617-391-3084 by December 4.
We look forward to our conversation.