NPO Conversation on September 7th at GMA Foundations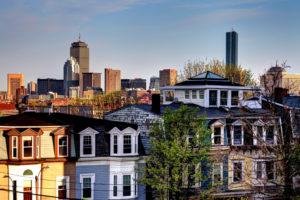 We invite leaders of nonprofit organizations to join us three times a year for a lunch discussion about issues, ideas, and concerns in the nonprofit and philanthropic community. The meetings are a time for us to move beyond the usual conversation between foundations and nonprofit organizations.
Each session focuses on a particular topic, and reservations are required. Guests will learn a little more about GMA and a lot about their peers' perspectives on important issues.
Topic for Conversation: What will it take to meet Boston's housing challenge?
An age old problem – the lack of adequate and affordable housing – is getting bigger in the Boston area. More than half of renters and one-third of homeowners are now considered "housing burdened," spending over 30 percent of their gross income on housing. At least 70 percent of residents earning less than $20,000 per year experienced this burden as of 2010. (The Greater Boston Housing Report Card 2015 and The Boston Indicators Project).
Mayor Walsh's Housing a Changing City: Boston 2030 calls for strengthening partnerships across sectors and across the city to ensure housing of all types is available and accessible to residents in all socioeconomic groups.
What is your organization's strategy for shaping Boston's housing future? How does that tie into Mayor Walsh's Boston 2030 vision? Join us for a conversation with non-profit leaders who are close to the problem and working on creative solutions!
Our informal discussion will be organized around a few questions, similar to these:
How does your organization approach the issue of housing accessibility and affordability? What one thing has to happen in the next five years for your efforts to qualify as a success?
What's missing from the conversation around housing in Boston?
What role(s) do you see for foundations in creating solutions?
We invite leaders of organizations working on housing to join us for lunch.  The discussion is open to the Executive Director or Policy Director of Boston area non-profits.
Please bring your experiences and ideas to GMA's 9th floor conference room, 77 Summer Street in Boston's Downtown Crossing, on Wednesday September 7th from 12n to 1:30pm.  We will provide lunch.
Registration is required as space is limited. Please contact Judy Sneath by email jsneath@gmafoundations.com or telephone 617-391-3084 by August 31st to RSVP. We look forward to our conversation and thank you in advance for your time.