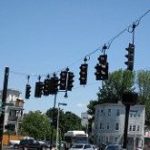 Observations from an NPO Conversation at GMA

Last month we were privileged to gather for lunch with nonprofit leaders working on housing in the Boston area. We examined the current state of housing in the city and the challenges that residents are facing and sought insight into the role funders can play in developing solutions.
While the housing issue in Boston is sometimes presented as the people versus the developers, our guests painted a much more nuanced and complicated picture. Housing is expensive to create, and models that worked previously are no longer viable in the face of challenges including reduced federal dollars, the movement of people back to urban centers from the suburbs, and the legacy of racially discriminatory housing policies in the United States.
There is still reason for optimism. We have the opportunity to bring residents, government, and the private sector together to expand and support creative alternatives and exciting new policies and practices that can ensure the availability of affordable housing that meets the needs of low- and moderate-income families who live here now.
Income Inequality is the Unspoken and Underlying Challenge in Boston
As noted by Juan Leyton, executive director of Dudley Street Neighborhood Initiative, the challenge underlying Boston's strained housing market is the extreme level of income inequality in the city. Boston was recently named by the Brookings Institution as the most income-unequal of fifty large cities in the United States,[1] and local studies released by the Boston Redevelopment Authority and the Office of Workforce Development revealed that in 2014 nearly half of Boston's residents earned less than $35,000 annually.[2] When rent for a two-bedroom apartment costs $2,602 a month, or $31,224 a year, more and more families are priced out of living in the city where they may have been raised.[3]
What is the role of the city?
Boston's city leadership should make good on its stated goals of providing affordable housing to all residents. According to the Mayor's Housing Plan, the construction of 53,000 new units of affordable housing is expected by 2030.[4] How that housing is built, where development takes place, and the definition of affordable are the critical pieces that follow.
The city has an opportunity to collaborate with neighbors as true partners, said Lisa Owens, executive director of City Life / Vida Urbana, and to move beyond the idea that residents pose barriers to development; for example, the new Office of Housing Stability has great potential as a resource for people facing eviction. To realize that potential, the city must include the voices of community leaders of color and current as well as long-time residents in a dynamic, locally grounded planning process.
What can funders do?
Support advocacy and organizing
Funders can do more to support equitable housing in the Boston area. Advocacy and organizing groups are working neighborhood by neighborhood to generate solutions that work for residents. General operating support and funds for staffing would build organizational capacity and help organizations respond to changes in the political landscape. Funding for technical assistance could allow organizations to support more people seeking home loans for the first time or bolster the work of community development corporations as they enter into agreements with the city or developers.
Fund the replication of alternative models
Alternative approaches to housing, like community land trusts and housing co-ops, exist and can be expanded and scaled up with philanthropic dollars. Successful replication is key to proving that these models can be adapted to different neighborhoods and the multifaceted needs of residents. Policies like the Community Preservation Act, which would "support affordable housing, historic preservation, and open space initiatives in Boston" through a local real estate tax surcharge, could provide millions of dollars in funding for affordable housing if Boston residents approve the ballot measure in November.[5]  Philanthropy could complement these investments as the city experiences a push for new affordable housing and community development projects.
Understand housing as part of a holistic system of social supports
Funders are positioned to join the movement to see housing as one foundational part of a whole system of support for families and individuals.  Nonprofits traditionally concerned more narrowly with housing are working in innovative new ways to address homelessness, affordability, and community control of land. For instance, Amy Schectman, president and CEO of Jewish Community Housing for the Elderly, works to integrate services such as mental health counseling, food, and social connection into the provision of housing for her clients.
There is no single solution to the need for housing stability, but more cooperation would take us a long way. By valuing the voices of low- and moderate-income families and elevating the ideas and solutions presented by leadership of color, Boston's public, private, and philanthropic sectors would rise to the housing challenge together, working towards a system that keeps neighborhoods livable for all residents.
Liz Raskopf is a Foundation Assistant at GMA Foundations. She can be reached at eraskopf@gmafoundations.com.
[1] https://www.brookings.edu/research/city-and-metropolitan-inequality-on-the-rise-driven-by-declining-incomes/
[2] http://owd.boston.gov/wp-content/uploads/2016/03/2015-Office-of-Workforce-Development-Workforce-Report-Booklet_v1_r8_spreads.pdf
[3] https://www.tbf.org/~/media/TBFOrg/Files/Reports/GB%20HousingReportCard%20111315.pdf
[4] https://www.boston.gov/sites/default/files/housing_a_changing_city-boston_2030_full_plan.pdf