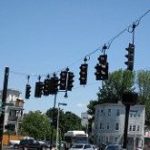 Observations from an NPO Conversation at GMA

Last month we were privileged to gather for lunch with nonprofit leaders working on housing in the Boston area. We examined the current state of housing in the city and the challenges that residents are facing and sought insight into the role funders can play in developing solutions.
While the housing issue in Boston is sometimes presented as the people versus the developers, our guests painted a much more nuanced and complicated picture. Housing is expensive to create, and models that worked previously are no longer viable in the face of challenges including reduced federal dollars, the movement of people back to urban centers from the suburbs, and the legacy of racially discriminatory housing policies in the United States.
There is still reason for optimism. We have the opportunity to bring residents, government, and the private sector together to expand and support creative alternatives and exciting new policies and practices that can ensure the availability of affordable housing that meets the needs of low- and moderate-income families who live here now.