NPO Conversation on December 9 at GMA Foundations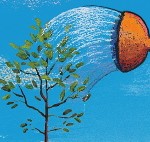 We invite leaders of nonprofit organizations to join us each quarter for a brown-bag lunch discussion about issues, ideas, and concerns in the nonprofit and philanthropic community. The meetings are a time for us to move beyond the usual conversation between foundations and nonprofit organizations.
Each session focuses on a particular topic, and reservations are required. Guests will learn a little more about GMA and a lot about their peers' perspectives on important issues.
Topic for Conversation: Succession and Sustainability
The pressures on leadership of nonprofit organizations are well known. Passionate about solving some of society's greatest challenges, these executives are frequently faced with a shortage of funds, time and compensation, even if they possess abundant talent. How then does an Executive Director who works to build a strong organization ensure its successful continuity?