The Foundation Review vol.7 issue 1 (Spring 2015)

This groundbreaking edition, co-edited with the National Network of Consultants to Grantmakers, is devoted completely to the art and science of philanthropy consulting. GMA is proud to be a contributing author.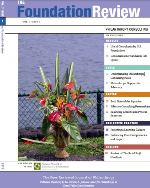 The Family Foundation Life Cycle and the Role of Consultants
Melissa L. Nemon Ph.D. and Claudia J. Jacobs M.S.W., Sillerman Center; Mary Phillips M.S., and Judy Sneath M.B.A., GMA Foundations
This article introduces the Family Foundation Life Cycle as a lens for understanding the stages of a family foundation's operations, and provides a
Family Foundation /Consultant Guide
  to help foundations anticipate needs and set the stage for successful consulting engagements. (click on the link to download)
Resources for Foundations in Practice case study sessions
The National Forum on Family Philanthropy, May 8 – 9, 2014
Ideas to consider when:
reviewing your foundation's geographic commitment
planning for board continuity and succession
foundation decision making becomes personally difficult
Resource List for #ncfp14 Foundations in Practice sessions
(kindness of the National Center for Family Philanthropy)
Boston Philanthropic Advisors Roundtable (BPART),  September 9, 2013
Ten Ways to plan for succession
Succession Planning in Private Foundations: Knock, Knock. Who's there?
Approaches to Involving the Next Generation in Philanthropy and the Family Foundation
Featured Resources (primarily from our blog)
Distinctive Grantmaking
Transcendental Operations: Finding the excitement in unrestricted support
Finding Strengths in Funder Collaboratives
Parenting Education: Much ado about evaluation and outcomes
Asset Building Strategies for Low Income Families
Model Governance
Is it Time to Refresh or Reenergize your Family Foundation Board?
Improving Communication and Interaction in Family Foundations
A Family Establishes a Statement of Legacy
Strong Operations
Tax Planning in Private Foundations: Keeping an eye on what matters most 
Moving to Online Grant Applications 
Foundation Compensation: To Pay or Not to Pay
Foundation Payout in a Down Economy
When Should You Pay Trustee Compensation?
GMA Reports
GMA Foundations background MEDIA
Books
Orientation Manual for Foundation Trustees and Board Members Boston, MA: GMA Foundations
Governance Arlington, VA: Council on Foundations' Family Foundation Library
Stories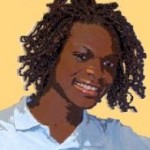 Have you tried the new StoryCorps DIY app?
Here's a recent interview posted to the website.