NPO Conversation at GMA: Wednesday, September 10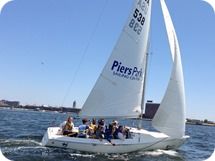 We invite leaders of nonprofit organizations to join us each quarter for a brown-bag lunch discussion about issues, ideas, and concerns in the nonprofit and philanthropic community. The meetings are a time for us to "talk shop" and move beyond the usual conversation between foundations and nonprofit organizations.
Each session focuses on a particular topic, and reservations are required. Guests will learn a little about GMA and a lot about their peers' perspectives on important issues.
Topic for Conversation: Back to Out-of School
School-age children spend the majority of their time outside the classroom. For years, the nonprofit sector has helped to fill the gap, providing quality after-school and summer experiences. In today's competitive and shifting global economy, we look to out-of-school time programs to narrow the academic achievement gap, through after-school enrichment and college access programs, and summer vacation programming designed to reduce learning loss.
Have we gone too far? Some would argue that the best learning takes place in less conventional places, in the freedom of unstructured and unusual activity. Seemingly unproductive activities have the capacity to transform individuals and the communities they share. Continue Reading »