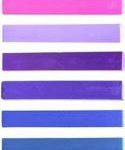 Observations from an NPO Conversation at GMA
There is an emerging awareness of the concept of gender as a spectrum, with many possible expressions that don't fit neatly into the traditional male-female binary. Last month we invited nonprofit leaders to join us for a discussion about the programmatic implications of shifting gender norms. Each guest represented an organization that offers gender-specific or gender-sensitive programming, and we discussed how this issue has affected their approaches to meeting the needs of the populations they serve.
Our guests shared some of the ways that their organizations are working to be more inclusive. Many expressed an awareness that gender-specific programs risk reinforcing the idea of gender as a strict male-female binary, but believe nevertheless that these types of programs are still much needed. While the concept of gender is more fluid than ever, many gendered expectations and prejudices persist, and gender-based violence continues to be a significant problem.
Awareness, sensitivity, and inclusion
Gender intersects with race, ethnicity, class, sexual orientation, and many other aspects of identity. As such, it is both complex and deeply personal. Organizations feel an obligation to meet clients where they are; the challenge is that clients' felt and expressed needs are varied and changing. A mother may approach an organization to find an adult male mentor for her son, because she wants him to be "more of a man." She may have very traditional views of what it means to be a man. How can an organization best meet such a client's need without embracing rigid definitions? Continue Reading »